This is the second installment of my retrospective comics – the original version of this strip (from my college newspaper the Scarlet & Black) can be seen below, if you click on the weird little partial thumbprint below. (It turns out that's just how images are working in the text body of this version of WordPress? Or I'm lazy. Either. Both.)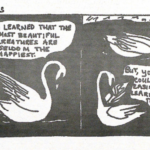 As you can see, the original drawing included swans, not finches, but I drew a swan comic so recently I thought I'd branch out. SUE ME, GUYS.
In other news, today my ear is painful and infected (but on antibiotics! And surgery eventually!) and there is a crew of construction workers five feet from my kitchen window. They are annoying, and start working far too early in the morning, and each jolt they make into the earth can be felt throughout my body, jarring up from the soles of my feet to my teeth. However, they keep laughing and sometimes even singing jolly songs, so it's hard to stay mad.